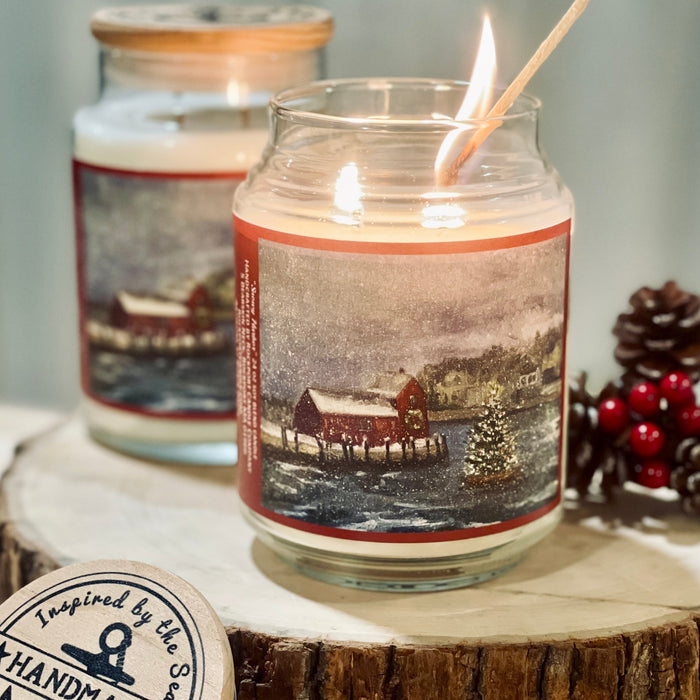 Limited Edition Christmas Charity Candle 2023
Original price
$34.00
-
Original price
$34.00
It's here! Rockport Candle Company's annual commemorative charity candle for 2023 is IN STOCK, ready to ship, and in the Bearskin Neck shop! We think you'll LOVE this beautiful 24-ounce candle jar with our signature wooden lid - it makes a perfect gift!

This candle is available in limited quantities and features artwork by Robin Davis depicting Rockport's Snowy Harbor with the famous Motif #1 in the background. There's a decorated Christmas tree floating in a skiff, and it's snowing! The 24-ounce oversized candle is double-wicked and carries the beautiful fragrance and essential oil blend of orange peel, holiday spices, Christmas tree greenery, and fireplace woods. It's a beautiful holiday scent!
Proceeds from the sale of this special candle will be donated to The Christmas Tree Committee of Rockport - the group who is responsible for creating and delivering hundreds of baskets of Christmas cheer to our seniors, bereaved, ill, or housebound neighbors here in Rockport (with the help of many local volunteers)! They also supply Santa with the hundreds of goody bags he gives to the children who come to Dock Square to see him on Christmas morning. Help us continue this 125-year-old tradition of Rockport residents caring for our neighbors! If you like the idea of giving a gift that also helps those in need during the holidays, this candle is a great option. Please remember to include a gift message during checkout if you're shipping directly to your loved ones!
Limited quantities - Available while supplies last! Thank you for your support!